Click IT Begins to Raise Funding for its Franchise Division Through Mainvest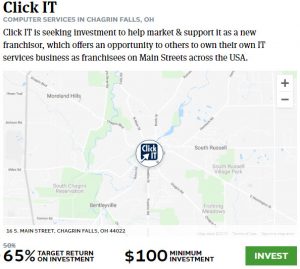 Since 2012, Click IT has helped thousands of businesses and consumers with their day-to-day challenges managing their Information Technologies (IT). We are in a retail-store-setting located on Main Street in the rural village of Chagrin Falls, Ohio, 26 miles east of Cleveland.
——-
"The demand for IT service providers is expanding from $180.5 billion in 2018 to $282.0 billion by 2023; a 60% growth rate. "
—Source: www.marketsandmarkets.com
——-
From computer repair and monitoring to managed network security, hundreds of subscribed customers now depend on the local convenience of Click IT for trustworthy IT support, including the increasing concern over the protection and security of their private data. With over 12 categories of IT products, services and solutions. Click IT can take care of all the needs of local businesses and residents having to do with technology.
In 7 years as a single retail-styled bricks-and-mortar store in a small community, Click IT has developed into a profitable business. Our emphasis is focusing on generating loyal customers who receive IT services pre-packaged and delivered on a subscription basis. Our now fully developed business model has been proven, having provided IT services, products, and solutions to over 2,000 customers.
Franchising
In 2018, we made the decision to grow exponentially by offering our Click IT store concept (business model, suppliers, and systems) to other entrepreneurial-minded people, so we began taking all the steps necessary to become a franchisor, including the formation of our franchise division, expanding and upgrading our existing location.
When we were ready, we began to test the level of interest. From our limited marketing efforts this past summer, we received inquiries from over 200 potential candidates interested in buying our franchise, scattered throughout the USA.
Click IT Franchise is now poised to award franchises nationwide to entrepreneurial-minded people who desire to break free, be in their own business and control their own destiny. They must meet however our strict criteria (see https://clickitfranchise.com/ideal-candidate) so that our franchise properly grows with the best people in place; who desire to help their community members with their challenges in IT; representing and delivering over 100 Click IT's products, service, and solutions.
In preparation for marketing our franchise concept to selected candidates, the following milestones were achieved.
Click IT Franchise:
Received a grade of "A" from Franchise Grade strengthening our credibility.
Developed our dynamic and manageable online POS: https://shop.clickitgroup.com.
Generated over 200 candidates who have expressed interest in opening a Click IT Store in their communities. (Choosing the right franchise owner is critical at this stage.)
Proved that it has a systematized and desirable Business Model with a better-than-average return (25% EBITA in 2018).
Ranked #1 IT Franchise" by Top IT Franchises.
Displayed as an Exhibitor at the National Franchise Show in NYC to test the market (which generated a lot of interest). However, New York State's approval for selling a franchise in that state is still pending. (Note: Most of the issues of selling franchises in New York, along with several other "restricted states", will be resolved using the finances from this funding raise. See Franchise Locations.)
Completed all necessary legal documents (the Franchise Disclosure Document [FDD] and Franchise Agreement [FA] - Request documents if you'd like copies).
Once selected, when someone purchases a Click IT franchise, they will get:
a Manual, which includes all the store's operating instructions;
40 hours of classroom and on-the-job training at Click IT's company store;
Access to our vendors and back-end business systems;
The most IT products & services;
A High-Growth Marketplace;
Our Selected list of Best-in-Class Services;
A Web Services Backend;
Over 12 Categories to Sell;
High Demand, Low Cost;
Over 12 Websites that Bring In Customers!
See https://clickitfranchise.com for more details.
——-
"Our goal is to become the preferred "IT department" for local communities surrounding Main Streets throughout the USA."
——-
WHY CLICK IT
Click IT future franchise owners (along with their technicians) will be well-equipped and well-trained. They will be able to service their customers' needs efficiently; making transitioning into new computers, for instance, easier using our systems; and, thereby improving the overall experience when purchasing or using new technology in general. Big-box computer stores do not sell IT services. They will not transfer data from an old computer to a new one, for instance. Click IT, on the other hand, is the only retail business that will sell you an email subscription, for instance, that is secure and then manage it for you. Click IT sells its solutions similar to concierge services. We deliver them to our customers with a higher degree of knowledge, systems, and service. Plus being in a smaller setting conveys a feeling of trust and intimacy. At Click IT brick-and-mortar stores, you'll get met and converse with the owner, who will many times be the one doing the work for you. Click IT's tested and proven systems, coupled with our years of experience and expertise (since 2012), aligned with our selection of "best-in-class" supportive suppliers, as well as our ongoing expansion and team's commitment, has propelled Click IT franchise far ahead of any competition. See https://topitfranchises.com for a comparison with other IT franchises.
——-
"Buying all your IT from one trustworthy and local provider has been proven to save up to 50% in total ongoing operating expenses, not to mention the time-savings and convenience!"
—AL Harlow - CEO & Founder
——-
THE OPPORTUNITY
By investing in the Click IT store franchise concept, you will be supporting an emerging franchise focused on becoming the preferred and trusted "local IT department" for hundreds of communities surrounding Main Streets throughout the USA. We have:
A Proven Franchise Concept - Our company store has operated since 2012, with a growing recurring revenue stream from a continuously growing list of subscribers. Customers can now pick from 12 categories containing over 100 pre-packaged IT products, services and solutions at https://shop.clickitgroup.com, making Click IT unique as an MSP.
A Competitive Advantage - The Click IT franchise system was given a grade of "A" by Franchise Grade and is ranked by Top IT Franchises as the number one IT franchise available today. See https://topitfranchises.com and https://clickitgroup.com/franchise-grade.
A Tested & Ready-to-Launch Marketing Campaigns - With a limited budget, Click IT tested its marketing strategy and generated over 200 interested candidates, which then enabled the development of a proprietary vetting process to assure awarding franchises to only the best and well-qualified candidates. See https://clickitfranchise.com/ideal-candidate.
A Fully Developed Vetting Process - One major mistake made by new franchisors will be avoided using our proprietary vetting process to select the best-in-class franchise owners.
An Experienced Founder - Our founder, AL Harlow, is a seasoned entrepreneur with a track record of building businesses with recurring revenue models from the ground up. The creator of now hundreds of innovative products, solutions, and services for both the consumer and industrial markets, his winning formula includes providing them through unique delivery systems, as is the case with delivering Click IT's products, services, and solutions. AL's work is supported by a competent and credible team, including Attorney Robert Rosenfeld, who has over 40 years of legal experience. Bob advises and watches over the legal and compliance matters a franchisor is tasked with on a constant and continuous basis, as it grows.
OUR STORY
The Click IT store was started in 2012 by AL Harlow, a serial entrepreneur, to provide comprehensive managed IT services, products, and solutions to small businesses and consumers. In 2018, we formed a new corporation that licensed all the rights and intellectual property of Click IT Connect for the purpose of selling the IT Services store concept (what we refer to as "Click IT") as a franchise.
WHY MAINVEST
One of our major hurdles facing us as a franchisor is finding candidates who have (or can qualify for) enough money necessary to open a Click IT Store, which is between $90,000 and $160,000. We have learned through our initial market testing, that most who have expressed an interest are typically young, inexperienced and undercapitalized. Most would never qualify for a traditional bank loan; and while we have set up a funding partnership (see https://clickitfranchise.com/funding-options/) to help candidates through the process of applying for an SBA assisted loan, most seemingly would not get past the credit rating test.
We have right this very moment, for example, three franchise candidates in Detroit and Cleveland who have had to delay their purchase because, while they are good at tech, they don't have the $40,000 required liquid capital nor high enough credit scores, and so can't be accepted as awardees. This is a problem for us moving forward, because what's more important to us is finding people who are good at tech, with a lot of desire to succeed. The money will come when that passion for the work is there.
Therefore, we consider our own use of MainVest as a test. If this can work for us in raising capital, then we believe it will work for our franchise candidates as well - who in many instances, have many more friends willing to invest than we do. We will be able to award more franchises because they will be able to raise the necessary funds through this portal, being less reliant on traditional means for raising capital, which is thwarted with hurdles to overcome where most just give up.
But for now, your investment here through this portal (which is a test for this larger purpose, overall), will be used to help our franchise division market, sell and support our future Click IT franchise network.
CONCLUSION
In summary, in the summer of 2019, the Click IT Store concept officially became an emerging franchise opportunity, receiving an "A" grade from Franchise Grade. (Click here to listen to the report.)
We are now poised to market and award Click IT franchises to well-qualified candidates nationwide, which again, is what the funds raised here at MainVest in this offering will be used for.
————————
Help us achieve our goal of becoming the preferred "Local IT Department" on Main Streets across the USA simply by investing as little as $100 today! This offer to participate in our success will expire soon and may never become available again. We have some very exciting years ahead of us and look forward to welcoming you aboard. As an investor in Click IT, you'll be able to experience with us our exciting journey ahead, while helping others achieve their dream of self-determination and control through small business ownership.