Graphco Recognizes Click IT
It is so nice when a customer appreciates the work and contribution you've made, but Graphco went over the top and wrote a blog about how much Click IT has helped them during the pandemic.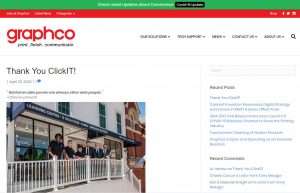 See the article here: https://graphco.com/thank-you-clickit/
Graphco is managed by a unique group of visionary people so it has been natural for us at Click IT to do everything we possibly can to help them realize their vision through implementing the latest IT advancements as they have.
This write-up is really a tribute more to their forthright and focused vision to use technology to its fullest, which has helped make Click IT what it is today as both our companies continue to grow, even during these turbulent times.
Thank you Graphco for being our most amazing customer!