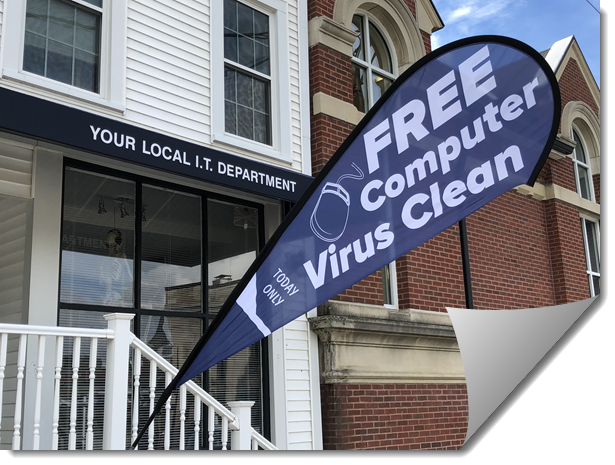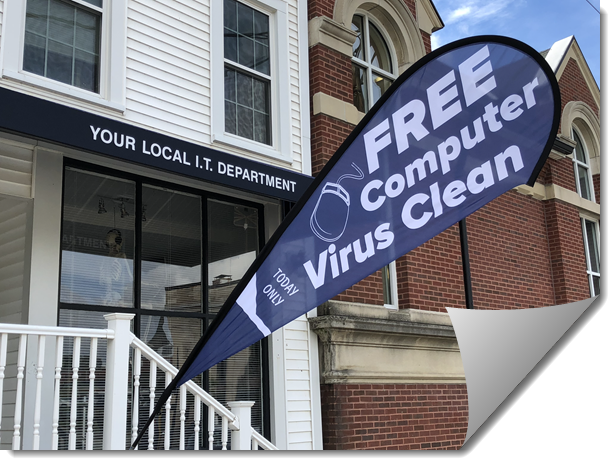 Business & Consumer Price List
INFORMATION TECHNOLOGY made easier. Your LOCAL IT DEPARTMENT
Since 2012, Click IT has helped organizations and individuals utilize technology to its fullest benefits. With its data-centers on the Internet super highway, Click IT offers Cloud Backup, Enterprise-level Anti- virus, Network Security Solutions and Workstation Management, Managed Email hosting and More.
Watch for our weekly specials. Make sure you are on our mailing list.
A) Repair Services

Diagnostic / Evaluation




Identify existing and potential problems with your computer. Non Refundable. Due at time of check-in.

$49.95

Instant Advice


Let our tech give you instant advice.




This fee may or may not be applied to a service performed. 

$19.95

Tune-Up


Just like your car, your computer runs best after a tone-up. Click IT will remove unused or unwanted files, optimize your hard disk and file system, all resulting in a faster, more pleasing computing experience.

$149.95

Basic Virus Removal


Identifies and removes common annoyances and security leaks such as Malware, Spyware, Browser Hijackers, and Trojan Horses.

$99.95

Extreme Virus Removal


Identities and removes the most heinous viruses like Bots and Root kits, the FBI Virus, and File System Viruses.

$149.95/10GB*

Operating System Install


Install a fresh copy of your computer's operating system. Includes OS optimization tor your system and peripherals.

$99.95

Instruction / Consultation
Let us help you make good decisions by speaking to one of our Click IT Certified Techs for advice concerning new computer purchases, custom builds, networking issues, software choices or anything else related to your IT. $24.00/15 minutes

B) Data Services

Data Transfer


Transfer data from one medium to another. Does not include destination media.

$89.95

Complete Backup
We backup your entire system to a high-speed USB hard drive. Includes installation and configuration of backup software. Price includes hard drive. $189.95

Recovery Media


Your computer didn't come with installation media for your OS? Click IT can make it for you. Saves over $100 in the event of a hard disk failure.

 $49.95

Forensic Data Recovery


Recover accidentally deleted files, missing data, or data from failed or failing hard drives, thumb drives, or smart-phones.

$249.95

Hard Drive Cloning


Creates an exact duplicate of your hard drive for emergency recovery when you don't have time for repairs. Excellent option for busy professionals who depend on their computers.

 $149.95

Set-Up


Most services require some degree of set-up. Click IT simply bills any time spent setting up these services in addition to the monthly fees, or provides a fixed cost for set-up. This will be determined and agreed to at time of purchase since every installation is unique.

 $24/15 minutes

Click IT Computers


Click IT sells hundreds of computers because all the hassles of upgrading equipment when using Click IT vanish. We provide complete peace-of-mind and can outfit entire solutions for any home or business.

Custom Quoted

C) Customer Care

Care Complete!
Two free 30 minute remote service sessions every month, anti-virus and 24/7 monitoring of your essential system information to identify potential problems before they happen. $39.95/ mo.

Computer Monitoring


We proactively monitor and install patches on your essential computer systems, 24/7. In addition, Click IT provides managed anti-virus and sends you weekly health reports. Pay more only if a serious problem occurs.

$24.95/mo

Click IT Managed Anti-Virus


Click IT's managed cloud-based anti-virus solution stays out of your way and protects you from the worst of the worst. Fully configurable and customizable to work best with the way you use your computer. Identifies and removes common annoyances and security leaks such as Malware, Spyware, Browser Hijackers,and Trojan Horses.

$19.95/$14.95 mo - $5 Discount Fall Special

Cloud Backup


Managed backup secures your most important files on redundant, "always up" servers. Easily restores missing or deleted files, restores entire computers, and securely stores your data with Military-Grade Encryption. Unlimited versioning and archive retention included. Additional storage space available at discounted rates.

$19.95/10GB*

Traffic Monitor


Perfect for shared or family computers. Monitor all incoming and outgoing traffic to and from websites to make sure you and your family are as safe on-line as possible. (Includes Web security, Web filtering & Bandwidth monitoring.)

$14.95/mo

D) Email & Web Hosting

Managed Microsoft Exchange
Leverage the power of MS Exchange your email needs. Sync and manage email across all your devices and the web. Share contacts, calendars, appointments and more! $24.95/mo.

Basic Email


Professionally managed IMAP e-mail accounts are easy to set up and sync across multiple devices and platforms. Perfect for businesses or sole proprietors requiring "always-up" e-mail.

$6.95/mo.

Website Hosting


Click IT has the hardware and experience to host and manage all aspects of your company's web presence. Click IT also offers in-house developers to create beautiful and functional websites and web-apps. 

$13.95 and up

E) Rate & General Labor

General Labor $96.00/hour

Click IT offers a vast array of services to our clients and customers, too many for any one list. As such, there are many I.T. services that are quoted on an hourly (general labor) basis.

While not applicable to all situations, from time-to-time, certain I.T. service requests that fall under the "general labor" category will be billed as such.

After one (1) hour, all general labor is billed in 15 minute increments.
F) Pickup, Delivery & Other Services
| | | | |
| --- | --- | --- | --- |
| Village Area Pickup and Drop Off - No Charge | Outside Local Pickup (Under 5 Miles) $25.00 | Outside Local Pickup (5-15 Miles) $50.00 | Outside Local Pickup (Over 15 Miles) Time plus $.55/mile |
| | | |
| --- | --- | --- |
| Certified Data Destruction $39.95 | Computer Recycling No Charge | **Prices subject to change without notice. Managed services may require a set-up fee to enroll all systems.Managed Services and all Hosting services are changed on a per month basis. Pre-payment, contract length and bulk discounts are available. |